Description
Canon R6
Canon EOS R6
The EOS R6 full-frame mirrorless camera is designed to meet the demands of both photographers and video content creators who want a strong and versatile camera to keep up with their active lives. It can go from photographing high-speed action sports to filming 4K cinematic video with ease thanks to its high-performance CMOS sensor and DIGIC X image processor.
High Image Quality Featuring A 20 Megapixel Full-Frame CMOS Sensor.
Featuring a Canon-developed 35mm full-frame CMOS sensor with approx. 20 effective megapixels, the EOS R6 camera is engineered with an imaging system, designed to capture sharp and detailed images, even in low-light scenarios. Dark portions of an image even at high ISO speeds, and increased sensitivity are rendered with lower noise. While the high-speed image capture rate of EOS R6's accelerating frame-to-frame shooting performance. The sensor also includes Dual Pixel CMOS AF II for high-speed, precise AF during Live View still and movie recording.
DIGIC X Image Processor.
The EOS R6 camera features a powerful DIGIC X Image Processor, enabling high-performance operation and coordination or processes such as Dual Pixel CMOS AF II, Image Stabilization, image processing, and video functionality. Powerful all around, the DIGIC X Image Processor helps ensure your photos and videos look sharp and high resolution with minimal noise or grain.
ISO Range Of 100-102400; Expandable To 204800.
Featuring an ISO range of 100-102400 (expandable to 204800), the EOS R6 camera delivers high standard and expanded ISOs (for still images), and a score of Auto ISO options to help enhance shooting in varied and fast-changing lighting situations. The EOS R6 camera has an extended ISO range that contributes to its ability to excel in nearly every situation it faces.
Up To 12 FPS With Mechanical Shutter.
Delivering incredible performance at speeds of up to 12 fps, the EOS R6 camera can capture the split-second details between a subject's movements. This is great for dynamic action photos such as athletes, animals or vehicles in motion.
Up To 20 FPS Electronic (Silent) Shutter.
Especially helpful for wildlife photography, journalism and situations where photographers need to remain discrete, the EOS R6 camera features a selectable electronic (silent) shutter mode, and can capture images at up to 20 fps. With a fast AF/AE system, DIGIC X image Processor and high-speed recording with new Dual card slots, the EOS R6 helps ensure that camera operations are performed quickly and precisely.
High-Speed Focusing With Dual Pixel CMOS AF.
The EOS 6 camera's highly responsive Dual Pixel CMOS AF II system features an incredible 1,053 Automatic AF zones that can be designated as auto-focus focal points (when Face + Tracking priority AF is selected). This ensures higher-precision than has been seen in previous EOS cameras and enables the camera to execute consistent and impressive autofocus tracking of the subject. Fast action can be captured and focus can be maintained with speed, accuracy and ease.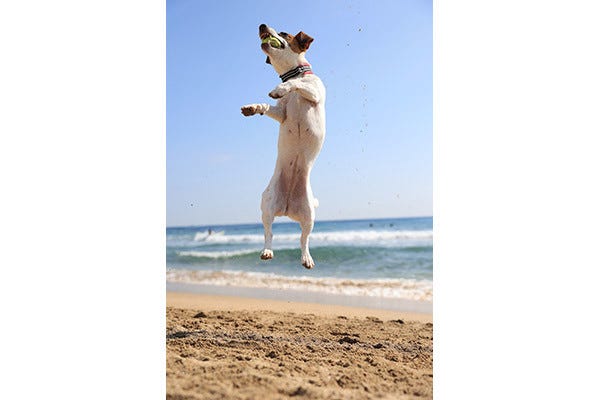 AF Area Coverage of Approx. 100% x 100%.
The EOS R6 camera features an expansive focus area of approx. 100% horizontal and 100% vertical when working with compatible RF and EF lenses. This means fast and impressive focusing even when composing your subject far from the center of the frame.
EV -6.5 Low-Light Autofocus.
Amazing for nighttime photography or in very low-light indoor settings, the EOS R6 camera's brilliant AF can operate in light as dim as a light rating of EV -6.5 – a first in an EOS mirrorless camera – where other AF systems may fail or search. Phenomenal AF is achieved even when using lenses with high F numbers. This ultra-sensitive AF works together with the EOS R6's EVF to clearly capture subjects even when light is limited. Combined with the EOS R6 camera's remarkable low-light AF performance, still and video shooting is possible even in dark situations in a variety of places and occasions.
Head & Eye Detection.
The EOS R6 brings head and eye detection to a new level. Even in situations where a camera may struggle to detect a subject, the EOS R6 can locate and a person's head, face or eye when people detection is set, allowing ease and accuracy when capturing videos or still images, or while in Live View mode.
Animal Detection.
Animal detection is possible with the EOS R6 camera. Developed using Deep Learning Technology, the EOS R6 can effectively track the whole body, face, or eye of cats, dogs, or birds for speed and precision – regardless of the animal's size, posture, or orientation of the face.
4K Up To 60fps, 1080p Up To 120fps 10-bit 4:2:2 With Canon Log Or HDR PQ, Internal Recording In All Formats, With Auto Focus.
Powered by the DIGIC X image processor, the EOS R6 is designed with the video content creator in mind. With oversampled UHD 4K recording at up to 60fps, Full-HD 1080p recording at up to 60fps and Full-HD High-frame rate recording at up to 120fps, the EOS R6 is a versatile camera with options for a variety of different shooting scenarios. Featuring internally recorded 4:2:2 10-bit H.265 Canon Log recording, and 4:2:2 10-bit H.265 HDR PQ recording, regardless what your timeline for delivery may be, advanced users will find EOS R6 capable of capturing confidently even during challenging high-contrast exposure situations. Moreover, oversampled UHD 4K 4:2:2 10-bit video signal at up to 60fps can be output from the HDMI port with a choice of either Picture Style, Canon Log or HDR PQ format, the output can be recorded to another device externally, or the footage can be viewed on an HDR PQ compatible TV. Additionally high-end features such as Interval Timer, 4K Time-Lapse mode, Mic and Headphone jacks, and Zebras are available to provide advanced-level control and versatility to the video content creator.
In-Body Image Stabilizer Can Provide Up To 8 Stops Of Shake Correction.
The EOS R6 camera features Canon's new 5-axis IBIS (In-Body Image Stabilizer). This will not only help enhance the ability to hand-hold still images at slower shutter speeds but it will also help to reduce camera shake when recording movies. Additionally, the EOS R6 camera's In-Body Image Stabilizer will work in combination with Lens-based Optical Image Stabilizers found in many Canon RF and EF lenses.
0.5-Type OLED EVF With Approx. 3.69 Million Dots.
The EOS R6 camera features a high-precision 0.5-inch OLED (Organic Light-Emitting Diode) EVF with approx. 3.69 million dots and a 23mm eyepoint. The EOS R6's EVF supports a 120 fps refresh rate and has been created to provide a bright, sharp and colorful 100% view of the subject at hand. Displaying a bright image and extensive shooting information that rotates with the camera's orientation when changing from Landscape to Portrait composition.
Vari-Angle Touchscreen LCD.
The EOS R6 camera features a 3.0-inch, Clear View LCD II Vari-angle Touchscreen LCD. Its extensive flexibility makes it easy to compose and shoot from virtually any angle, making selfies simple and enabling the LCD to fold away when not in use. The brightness of both the EVF and the LCD monitor can even be adjusted separately. Touchscreen features include settings, review and even AF point selection.
Dual UHS-II SD Memory Card Slots.
Taking advantage of its compact body, the EOS R6 camera has dual card slots for UHS-II SD memory cards. Both slots are capable of burst shooting of approx. 20MP still images, at speeds of up to 20 fps, as well as internal recording of 4K 60p movies.
Built-In Wi-Fi Capability.
The EOS R6 camera is designed to make using Wi-Fi connectivity fast and easy. It can transfer files directly to a compatible smart device using the free Canon Camera Connect app. Simply connect to the Camera Connect app where you can browse, or download images to your smart device, then share and upload from the device directly to various social media sites and web services.
Bluetooth Capability.
Bluetooth connectivity offers continuous connection, and allows the EOS R6 camera to automatically connect to a compatible smart device that is paired with the Canon Camera Connect app. This allows a number of functions from easy image transfer to remote shooting, to adding GPS information to your photos and videos and more.
Image.Canon Service
image.canon is a cloud service designed to ease your imaging workflow, whether you are a professional, enthusiast, or casual user. Connecting the EOS R6 camera to the image.canon service will allow photographers to seamlessly upload all images and movies in their original format and quality, and access them from the dedicated app or through a web browser – and automatically forward them to a computer, mobile device, and third party services.
Multi-Controller Customization.
Designed to allow users to operate customizable camera functions while looking through the electronic viewfinder, the EOS R6 camera features a joystick button located on the back of the camera that makes it easy for the user to adjust autofocus point location, navigate menus, and toggle settings.
Main Dial & Quick Main Dials 1 & 2.
With its compact body size, the EOS R6 camera features a three dial User Interface in the main dial, quick control dial 1 and quick control dial 2 which provide direct control over the traditional exposure controls such as Shutter Speed, Aperture, and ISO –and are fully customizable to the users' preference.
Battery Grip.
The EOS R6 camera's optional dedicated Battery Grip BG-R10 holds 2 LP-E6NH Battery Packs, while enabling virtually seamless vertical and horizontal operation and additional functions with buttons similarly configured in a comfortable and ergonomic grip. The Battery Grip BG-R10 also has a useful battery charging function (with optional USB power delivery adapter attached) that's particularly helpful for power-hungry operations like video recording or shooting over an extended period of time.
Magnesium Body
Comfortable and solid in the hand, the EOS R6 camera features a rigid yet lightweight magnesium alloy chassis that enhances body durability while shielding the camera from electromagnetic radiation and heat. It also has a tempered front panel for internal rigidity.
Shutter Durability
The EOS R6 camera has a durability rated at approx. 300,000 cycles and a full-frame focal-plane shutter that offers approx. 12 shots/sec.
Dust & Water Resistant Sealing.
The EOS R6 camera is designed for use in a variety of weather conditions. Sealing materials are used in critical areas like the buttons, terminal covers, the battery compartment and the card slot cover. Precise design and construction help to minimize accidental penetration of dust and moisture in the rest of the camera body.